Performance marketing has so many different types, channels, acronyms, and strategies. Here are the 5 types of performance marketing and the main pricing models behind them.
Key Pricing Models
CPM – Cost Per Mille (or cost per thousand impressions)
The price of one thousand impressions served and displayed to an online user on a given web property. If a marketer is paying a $5 CPM, they are paying $5 for a thousand impressions served. If their budget is $5,000, they are able to pay for 5 million impressions.
This is the most common form of 'currency' of a media buy in today's ad landscape.
Critical here is to remember that marketers should assess performance on Click-Through-Rates (CTR), because CPMs is mostly a metric for reach, not true performance. The higher the CTR, the more effective the ad on the impressions-based media spend.
CPI – Cost Per Install
The price for a download or install of an app or program. Several mobile app publishers use this to guide their performance marketing efforts.
See this CPI-based ad from AccuWeather on Reddit:
CPC – Cost Per Click
The price for a click on an ad.
Some marketers have desired paying on a CPC-basis so that they pay only when someone clicks on an ad versus buying millions of impressions that may end up not making any sort of impression.
CPL – Cost Per Lead
The price to acquire contact information of a lead.
New ad formats on social media have allowed CPL-based pricing. Here, a marketer pays when a user fills out a lead generation form within the ad itself.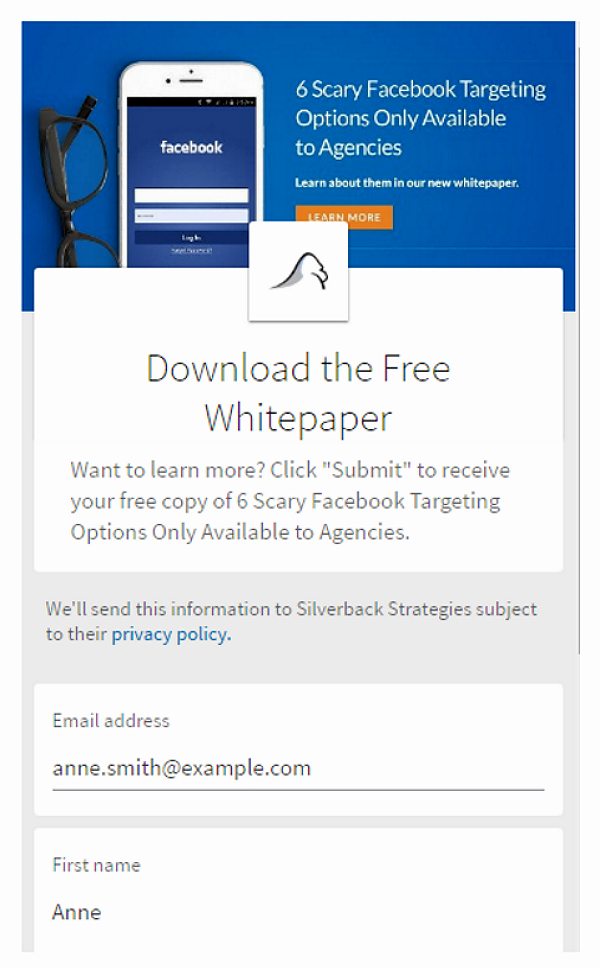 5 Types of Performance Marketing
Display
Display gets a bad rep these days, but still marketers are devoting almost $40B of their budgets to continue running display ads across mobile and desktop inventory.
As banner blindness and attention spans erode, marketers are looking to new display formats to help increase the effectiveness of display ads. This matters when today's average CTR for a banner is at a blistering 0.03%.
These include rich media, immersive, and interactive ads.
Native Advertising
Native advertising allows a given ad to take on the aesthetics of the particular inventory it's in. The ad will appear more natural to the environment it's in, allowing for less friction for the user and encouraging more clicks.
For performance marketers always seeking to find ways to improve an ad's effectiveness, native ads have been a format that's brought success.
Almost 60% of display advertising was expected to be native in 2018.
Social Media
Facebook operates using all of the above pricing models and, of the social media platforms, has the most robust ad offering for performance marketers.
LinkedIn offers CPM and CPC-based pricing for three ad formats: Text Ads, Sponsored InMails, and Sponsored Content.
Twitter has several different "billable actions" unique to the platform. They include the standard CPMs and CPIs in addition to Cost per Engagements (on tweets), Cost per Follows, and Cost per Video Views.
Quora operates on a CPC-basis and also offers CPM-based pricing.
Reddit offers CPI- and CPM-based pricing.
Search Engine Marketing (SEM)
SEM remains one of the most important types of performance marketing as so much of online research is conducted on search engines like Google, Bing, and Baidu.
SEM can be done in two ways: unpaid/organic search and paid search.
Performance marketers are optimizing for CTRs and bids for their paid search efforts. For unpaid/organic search, they'll turn to on-site optimization and content marketing.
Content Marketing
Content marketing is a way for brands to provide relevant information through published content to customers at various stages of the buyer process. Content marketing helps brands' content and website organically rank in search engines for more brand awareness and website traffic.
Content marketing is used by performance marketers thanks to its low up-front cost and better long-term benefits than paid search.
Content marketing costs 62% less than outbound marketing and generates 3x leads.
(Source)
###
As a primer, check out:
Leave a comment