In this tutorial, we'll teach you how to take a 3D Photo for Facebook, using any smartphone device or desktop computer. ANYONE can now make a 3D Photo, including most Android phone owners!
Facebook's 3D Photo Feature
In October 2018, Facebook launched a 3D Photo feature to News Feed, VR, and Stories.
3D Photos allow images to look even more realistic by adding in depth to images, giving originally 2D images a sense of movement and realism. The 3D effect comes to life when users scroll through the feed or tilt their phones/hover their mouse over the 3D photos.
Here's an example:
How to Take a 3D Photo
Here's what's really awesome about 3D Photos: now ANY 2D image can be turned into a 3D Photo. 
Depending on where your image is coming from, your creation/upload process may look different. We outline three ways:
Using Facebook-supported mobile devices (newer iPhone models, Samsung Galaxy)

Using other mobile devices that store depth data (many Android devices, iPhone XR)

Using older mobile devices that don't store depth data or a computer 
How to Take a 3D Photo Using Facebook-Supported Devices
If you have an iPhone 7 Plus, 8 Plus, X, XS, XS Max, Samsung Galaxy Note 8, Galaxy Note 9, Galaxy S9+, Galaxy S10e, Galaxy S10+, Galaxy S10 5G, or Galaxy Fold, taking a 3D Photo is easy. 
Facebook currently supports direct upload of phone images from the above devices, which store depth data for the images taken that it then uses to automatically render a 3D Photo. To take a 3D Photo: 
1. Take a picture on your phone using either Portrait Mode or Live Focus mode
2. Post directly to Facebook using the mobile app by choosing "3D Photo" as post type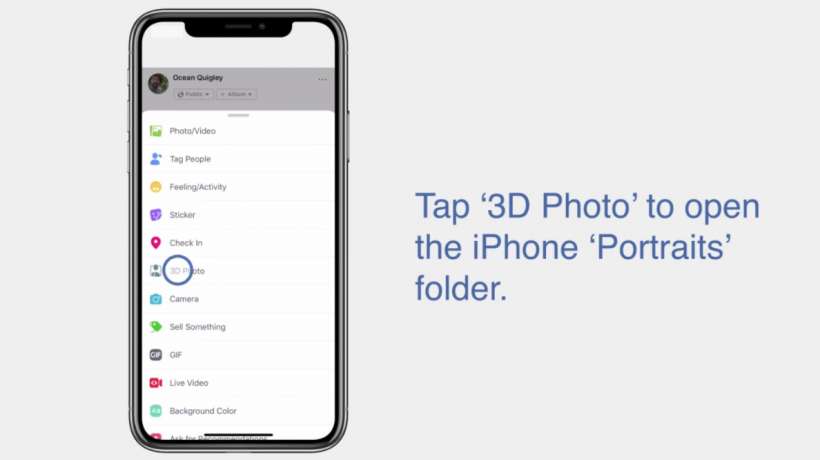 How to Take a 3D Photo Using Phones That Store Depth Data 
If you take an image on a phone that Facebook does not support (iPhone XR and Android users—this one's for you!) , you can still post it to Facebook as a 3D Photo by following the below steps.  
Most important here is to see if your phone stores depth data from your images.
1. Take a photo on your phone. Check to see if you have an option to take the image in either Aperture, Portrait, or Live Focus Mode. These modes are the most likely to be ones that capture depth.
2. Upload your phone's photo to the OmniVirt 3D Photo Creator. The tool will automatically extract your depth data from your picture.
3. Press "Generate 3D Photo" and a zip file containing the photo and extracted depth map will be automatically downloaded 
4. Determine if further depth map editing is needed. The quality of depth map data varies between phones! (We had to do edit our depth map in the GIF's example, because the Samsung device we were using didn't store the most precise depth data!) 
5. Drag & drop both files to Facebook's Create Post box using your computer

How to Take a 3D Photo Using Older Phones/Desktop
For images that don't have any depth data associated, you'll need to create a depth map. Some older phones don't store depth data for images taken on those phones. We suggest testing the OmniVirt tool to see if your image contains depth data or not. If not:
1. Make your own depth map on an image editing software or, if your image features a human face, use OmniVirt's Predict Depth feature.
2. Drag & drop the depth map and source image to Facebook's Create Post box on your computer.
Use this infographic as a handy guide:
Tips for How to Take 3D Photos from your Phone
Ensure your photos contain perspective and a real sense of depth. A picture of a pen on a table may not come alive in 3D. But a picture of someone walking on a bridge may. Why? A bridge goes off into the distance, which the camera can capture as depth.

Aim to take pictures with some action in it. Certain types of movement can convey depth.

Optimize for Facebook's aspect ratio. Aim for 4:3 means your photos can take up more space on the News Feed–which means people can see your work in better detail!
Leave a comment